What is Chronic Pain?
Chronic pain extends beyond the usual recovery period for an injury or illness that can go on for months or years. The pain can be constant or not, but can affect daily life at all levels. People sometimes wonder if the "pain is all in my head" – at times, it is difficult to pin down a specific physical cause for the pain, but that doesn't lessen the suffering. When we experience any pain, it is in both our bodies and minds – we cannot separate the physical and psychological affects they have on us. Pain can also affect our relationships, finances, and employment, which leads to increased anxiety and depression. It is common to experience grief for our old lifestyle and miss how our bodies used to be.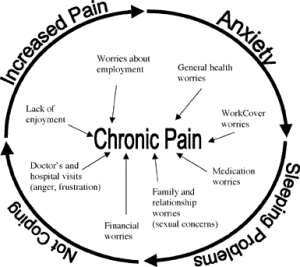 What is Chronic Illness?
Chronic illness is a persistent medical condition that people have to manage on a daily basis. Examples of chronic illness include diabetes, kidney disease, high blood pressure, cancer or HIV/AIDS.
Sometimes living with chronic illness and pain can be very difficult. It seems like no one understands what you have to go through. Managing pain, fatigue, medical appointments, special diets and medications can be overwhelming for both patients and family.
Dealing with chronic, debilitating pain can be both physically and emotionally exhausting for all those involved.  The treatment of chronic pain condition have cost this country millions of dollars in terms of medical fees and lost productivity. Toward the latter half of the 20th century, medical practitioners have progressed from a more traditional, primarily pharmaceutical-based approach to that of multiple disciplines to handle the chronic pain.
Fidelity Health and Wellness Center, LLC is dedicted to provide the highest quality pain management treatment available in our region by using this multi-disciplinary approach. It is important to understand that pain management is not just concerned with finding source of the problem and relieving the pain.  The treatment of chronic pain also includes psychological counseling, physical therapies,  nutritional counseling, acupuncture, personalized wellness coaching and other such services to treat the entire person assisting them in their journey to return to their former quality of life." 
There are many types of conditions that can cause chronic pain such as those related to work, sports, automobile, other personal injury, post-operative conditions,  chronic medical conditions, or even from unknown sources. They can include conditions such as chronic back or neck pain, herniated discs, spinal stenosis, radiculopathy, neuropathies or neuralgia, cancer pain, migraines or headaches, fibromyalgia and Chronic Regional Pain Syndrome. Regardless of the source of the pain, FHWC is dedicated to providing pain relief.
We, at FHWC, listen to our patients to better understand their symptoms. We thenl review their medical history and diagnostic tests.  Additional diagnostic modalities are requested and assessed.  The patient is then examined.  An individualized treatment plan is then tailored to the patient's specific needs and goals. Referring physicians are consulted and kept informed during the course of treatment. 
Our medical providers utilize the most minimally invasive pain management remedies necessary. Through this quality service and dedication to the treatment of each patient as an individual, our patients experience a high success rate in minimizing their pain and in optimizing their functionality with improvement in their quality of life.
We Treat:
Back, Leg & Hip Pain
Neck, Arm & Joint Pain
Nerve Pain
Arthritis Pain
Vascular Pain
Work-Related Injuries
Check with the office staff to for other conditions treated
We Offer Non-surgical techniques:
Innovative medications that alleviate pain and reduce inflammation
Advanced technologies and treatment modalities used
Quick and significant pain relief
Fast recovery to improved quality of life
Experienced pain management specialists
Reliable, effective results
Compassionate quality medical care
Our mission at FHWC is to provide comprehensive, high-quality, and patient-friendly diagnosis and treatment done by certified professionals in order to  improve your quality of life.  
Chronic Pain and Opiate Addiction
Certain medications used to treat chronic pain can lead to physical and psychological dependence. This means that withdrawal symptoms may develop when stopping use of the drug and a tolerance may develop over time, causing the person to require higher doses of the drug to experience pain relief.
Pain killer addiction is another concern for individuals taking medication for chronic pain. Drug addiction is of particular concern when an individual is prescribed a drug in the opioid family.  In America there is a growing number of patients with opiate dependence and all the untoward effects that go along with that.
People with a personal or family history of drug addiction or addictive personality disorder may be at greater risk for developing a painkiller addiction. You may have developed a prescription drug addiction if:
•You feel unable to control your medication use
•You have begun to take painkillers more frequently and in higher doses than prescribed
•You have begun taking painkillers to ease depression, anxiety and other issues besides pain
•You are taking medication prescribed for another person
•You see more than one doctor to get larger amounts of medication than one doctor would be willing to prescribe
FHWC's chronic pain treatment program use the fewest medications possible and when appropriate, prescribe non-addictive medications with the fewest side effects. We utilize a treatment protocol that reduces dependence on opiate medication with ultimately a taper off opiates for most patients.  We target and treat the causes of pain and address any co-occurring addictive behaviors.  
DOCUMENTS, FORMS AND HANDOUTS
FOR ALL NEW PAIN MANAGEMENT/ADDICTION MEDICINE PATIENTS:
Please take note:

1. You will need to arrive at least 30 (thirty) minutes prior to your appointment time with the medical provider to complete the registration process. Please make the appropriate accommodations for this visit.
2.Please bring your Driver's license or identification card, Social Security card, and insurance card(s).
3. Please allot 1 and 1/2 (one and a half) to 2 (two) hours for your initial appointment here at Fidelity Health and Wellness Center, LLC.
4. You will need to bring any diagnostic reports (X-rays, MRIs, EMG-NCV, CAT-scans, etc). Actual films not necessary. Please bring in the summary of the results only.
5. You will need to obtain any information from other physicians including previous pain management, primary care or specialty care physicians, hospitals, physical therapists, chiropractors, acupuncturists, clinics and pharmacies pertaining to your condition with relevant information including medication history. Please bring in this information with you to your first appointment. You may have to contact these offices listed above and sign a release of information form with them authorizing the release of your medical records to our office. You may also have the information forwarded to the office via the address or fax number listed above.
Thank you for your cooperation in advance.
The Staff of Fidelity Health and Wellness Center, LLC 
Below you will find handouts provided for your convenience.  They are explanations of your pain condition to further  elucidate.  Knowledge is Power.  Once you are aware of the triggers to your condition, we can work together to better help manage your pain.  
IF YOU ARE UNABLE TO FIND YOUR PARTICULAR PAIN CONDITION HANDOUT ABOVE, DON'T WORRY AND JUST PLEASE LET THE STAFF KNOW SO THAT WE MAY BE ABLE TO PROVIDE YOU WITH THE APPROPRIATE LITERATURE/MATERIAL.  NOT ALL OF THE MATERIALS HAVE BEEN UPLOADED TO OUR WEBSITE.